ULVAC-PHI Users' Meeting 2016
2016.05.27 Update
ULVAC-PHI Users' Meeting 2016
On February 10, 2016, ULVAC-PHI held the annual Users' Meeting at the Mita NN Hall.
The meeting was for users of X-ray photoelectron spectroscopy (XPS), Auger electron spectroscopy (AES), and secondary ion mass spectroscopy (SIMS) providing a useful opportunity for users of different techniques communicate and share information.
This year, four guest lecturers delivered unique presentations on interesting topics.
UP's lab members explained about three analysis cases along with the sales department introducing some customized products. In addition, a free discussion session was added in the meeting schedule for the first time allowing users to discuss and share their opinions.
The meeting was held as described below:
Expectations for HAXPES, a Technology for Extracting Deeply Buried Information
Introduction of Applications of the Synchrotron Radiation Based Hard X-ray Photoelectron Spectroscopy (HAXPES) and Laboratory-scale HAXPES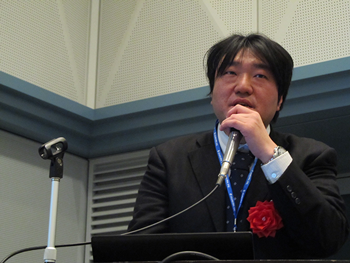 Mr. Teruhiko Saze
Toshiba Nanoanalysis Corporation
Mr. Saze from Toshiba Nanoanalysis has made substantial achievements in research using HAXPES systems including the Spring-8 synchrotron radiation facility for 10 years. Mr. Saze explained the differences between synchrotron radiation based HAXPES, laboratory-scale HAXPES, and XPS, along with actual analysis cases.
He explained that since synchrotron radiation based HAXPES provides a larger probing depth and enables evaluation using core level photoelectrons, but is not suitable for ordinary use, he is placing his expectations on laboratory-scale HAXPES that allow analysis with higher excitation energy.
In the question and answer session, questions about quantification and chemical state analysis were asked, and users' expectations for database storage and their strong interest in this field were demonstrated.
With In-situ Observation of Battery Materials in View
Chemical-state Analysis of Lithium Using Scanning Auger Electron Microscopy (SAM)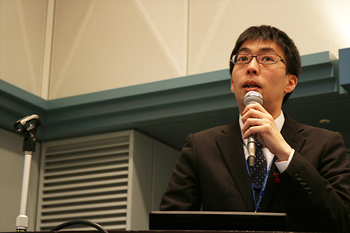 Dr. Nobuyuki Ishida
National Institute for Materials Science (NIMS) 
Dr. Ishida from the NIMS, which is engaged in research on in-situ observation of battery materials, delivered a lecture on chemical-state analysis of lithium using AES.
Focusing on various advantages of AES analysis of lithium, such as high spatial resolution, chemical-state analysis, and versatility as an instrument, he introduced observations of the process of oxidization of metallic lithium and analysis cases of lithium used as a battery material.
Visualized changes in the amount of lithium with changes in the amount of charge and many other interesting analysis results were reported, and participants had a heated discussion on the behavior of lithium in the question and answer session.
Hair Damage Can be Seen by TOF-SIMS
Structure Analysis of Hair Surface Using TOF-SIMS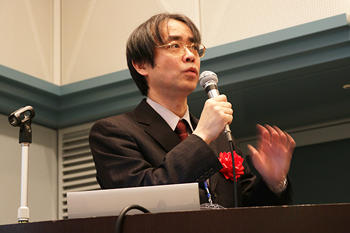 Dr. Masayuki Okamoto
Kao Corporation
Dr. Okamoto from Kao introduced analysis cases of the surface of hair using TOF-SIMS.
He delivered a lecture on damaged hair and a method of determining 18-methyl eicosanoic acid, a component present specifically in the surface layer of hair, by using TOF-SIMS. He explained that TOF-SIMS is put to effective use in developing haircare products that are gentler on hair. He also talked about a depth distribution analysis of cysteine in a single cuticle layer using a gas cluster ion beam (GCIB).
The lecture on the analysis of hair damage, a topic that is familiar to us, attracted much attention from the participants, and was followed by a vigorous question and answer session. In particular, the analysis of biological specimens using GCIB attracted a lot of questions. It was a very interesting lecture that showed that the properties of hair can be seen by using TOF-SIMS as a surface analysis technology.
In Order to Determine the Amount of Hydrogen Diffused in Glass
Depth Profile Analysis of Hydrogen in Glass Using Dynamic SIMS (D-SIMS)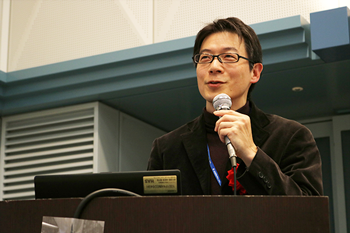 Dr. Yuichi Yamamoto
Asahi Glass Co., Ltd. 
Dr. Yamamoto from Asahi Glass has been actively engaged in research on glass surfaces using various surface analysis techniques. Mr. Yamamoto reported on the results of an analysis of the amount of hydrogen diffused in glass using D-SIMS.
Soda-lime glass made by the float method has been used more and more in electronic devices such as photovoltaic cells. To investigate the surface properties of soda-lime float glass, the amount of hydrogen diffused in the glass was estimated by XPS and the estimated results were compared with the measurements by D-SIMS. He made a presentation on this analysis and the optimization of the analysis conditions.
Questions about the optimization of the analysis conditions were asked. A deep discussion ensued, including a comment about the new finding that H+ is less mobile than Na+ and other mobile ions.
Presentations by ULVAC-PHI

ULVAC-PHI's lab scientists gave presentations on a new system (a laboratory-scale HAXPES) and new technology (MS/MS) under development as well as trends found in overseas academic conferences (SIMS-XX, ECASIA'15, and AVS-62) and presentations summarized by subject.
"Preliminary results Using a Laboratory-scale Hard X-Ray Photoelectron Spectroscopy"
- Ms. Risayo Inoue
"Application of Organic Materials Using PHI nanoTOF II with MS/MS"
- Dr. Shinichi Iida
"Trends in Overseas Academic Conferences"
- Mr. Takuya Miyayama
---
Special thanks to Mr. Teruhiko Saze, Dr. Nobuyuki Ishida, Dr. Masayuki Okamoto, and Dr. Yuichi Yamamoto.