Event finished. Thank you for participating and we look forward to seeing you again.
JASIS 2015

You will not have to register at the exhibition site,
if you pre-register online at the JASIS official website.
http://www.jasis.jp/en/ 
No. 7B-502,7B-405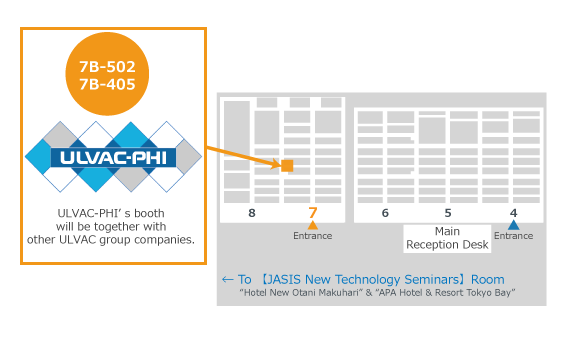 Basic Application of Lab-type Hard X-ray Photoelectron Spectroscopy
Lab-type HAXPES system is under development, which has both Al and Cr X-ray source. Difference between Al and Cr X-ray source features are revealed through some typical basic application. Analysis depth of Cr X-ray is proved to understand characteristic of intrinsic features of samples.
Date:September 3 (Thu.) 13:10~13:35
Venue:Hotel New Otani Makuhari   
STELLA (N-1) 
Recent Applications of Inorganic and Organic Materials by Using FIB-TOF-SIMS
Combination of TOF-SIMS and FIB enables us to observe the elemental and or molecular information from the deeper area of the samples easily. We would like to show you our recent applications of organic and inorganic materials.
Date:September 4 (Fri.) 10:30~10:55
Venue:APA Hotel & Resort Tokyo Bay Makuhari
            Tokyo Bay Makuhari Hall  
A-10
We are looking forward to seeing you!