Event Report : XPS Open House Seminar in Shenzhen
2017.05.12 Update
Event Report : XPS Open House Seminar in Shenzhen

Shenzhen Tsinghua University Open House Seminar was successfully held in the Lecture Hall of Shenzhen Tsinghua University Graduate School from March 31 to April 1 this year.
This open house was mainly organized by the Graduate School of Shenzhen Tsinghua University and co-organized by ULVAC-PHI and CoreTech Integrated Limited. There were around 200 participants who joined the open house. The participants were not only professors and students of Tsinghua University Graduate School, but also surface analysis experts from other districts in China.
Shenzhen Tsinghua University Open House Seminar was like a combination of 'seminar' and 'training'. In the seminar part, analytical lab scientist of ULVAC-PHI, Dr. Hsun-yun Chang, was one of the guests to present the latest techniques and applications of surface analysis in order to let the participants have a deeper understanding on surface analysis instruments and it's applicable areas. For the training part, Executive Director of CoreTech Integrated, Mr. Wensly Yip, was another guest to share data analysis of XPS. He also talked about packaging by XPS, peak-differentiating and imitating, in-depth analysis and imaging processing methods.
Dr. Chang and Mr. Yip also provided technical consultations, explained and presented the functions and characteristics of XPS, and answered questions from the audience which could expand the range of applications of the XPS in various fields.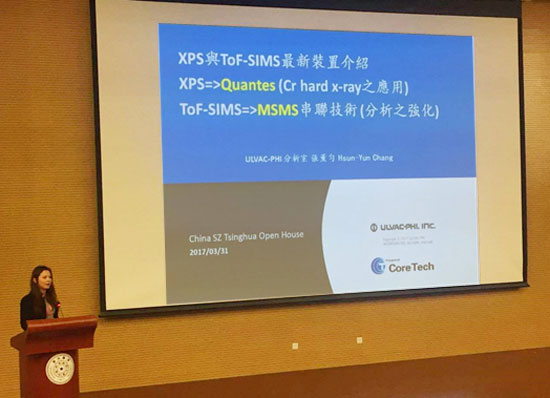 Scientist of ULVAC-PHI Dr. Chang Hsunyun had given a talk to the audiences.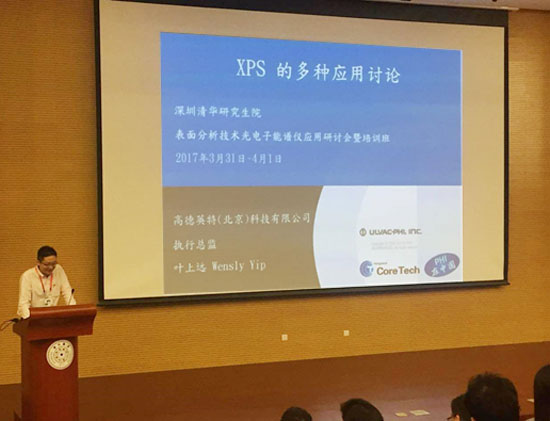 Executive Director of Coretech Integrated Mr. Wensly Yip had given a talk to the audiences.