Event Report:Korean Users' Meeting
2017.05.17 Update
Event Report:Korean Users' Meeting
Topics:
Photoelectron Spectroscopy and Electronic Structure of Solid
- Dr. Jungwon Kim (Korea Research Institute of Standards and Science, KRISS)
XPS Basic Seminar
- Ms. Risayo Inoue (ULVAC-PHI Lab)
AES Analysis of Various Samples
- Dr. Hongchul Chae (Chungbuk University)
Microstructure and Surface Analysis for Li-Ion Battery Using Non-Exposure Air System
- Dr. Sunhong Lee (Korea Institute of Ceramic Engineering and Technology, KICET)
During this meeting, very enthusiastic discussion were made among the participants in each talk. Special thanks to Dr. Kim, Dr. Chae, and Dr. Lee, for putting their time and effort to give such hot & interesting talk in this meeting. In addition, we would like to thank our agent, Woosin CryoVac, for their great support.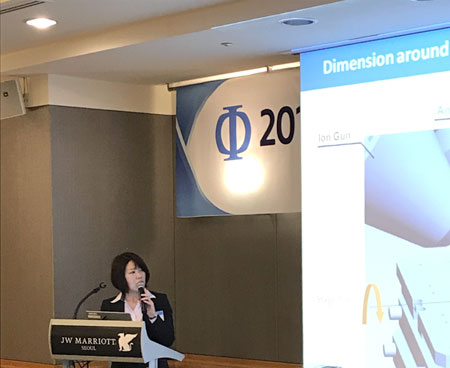 ULVAC-PHI's lab scientist, Ms. Risayo Inoue, giving a presentation on XPS.