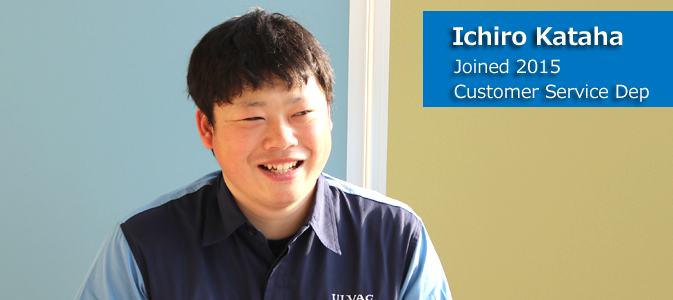 What is your job in company?
I'm currently in the Customer Service Department, and I mainly handle installation tasks when instruments are brought in to the customer's site, as well as replacements for consumables. I can also repair equipment if the defects are minor, but when it comes to more difficult repair tasks like identifying the causes of defects, I'm still a bit green. First, I want to be able to deal with all repair tasks for the instrument models I'm assigned to handle, and then I want to expand to other models so that I'm more capable.
Is there something you always bear in mind when you work?
When I get sent out on assignments, I try to do a thorough inspection instead of working with only what the customer tells me, and then explain the status of the instruments to them. Also, customers are happy when I give them helpful bits of advice with regard to managing and maintaining instruments.
About a year has passed since you moved the Customer Service Department. In what ways do you feel you've grown?
When I first joined the division, I used to need my seniors to accompany me, but now I often get sent out on assignments on my own. Sometimes, I get sent out to sites for simple tasks like replacing consumables, but when I arrive, I discover that there are defects that they didn't realize were there. I can always call to ask for help, but explaining the status of instruments to customers and handling issues that arise on-site, are all on me. I feel like I've grown a lot through these experiences
Do you have any advice for your juniors?
This is the only time that you can learn from your seniors. If there's something you don't understand, you should ask now, because it's going to be hard to ask two or three years from now. It might be hard to seek help when everyone is busy, but you shouldn't hesitate to ask questions. You should also take memos and notes on everything you learn. They will come in handy later.
Please say a few words to the students who are thinking about pursuing a career at ULVAC-PHI.
I didn't know anything about surface analysis before I joined this company, so it was a totally new challenge for me. But I gave it a shot, and it worked out. Don't be afraid to take on the challenge. Things are sure to work out! (laughs)
How do you spend your days off?
I like to play baseball. I've been playing since I was a student. I joined a baseball team formed by some employees as an outfielder and pitcher. We're pretty relaxed about it. Like if a team has only one pitcher, they might ask me to substitute if they're tired (laughs). We won the regular game the other day!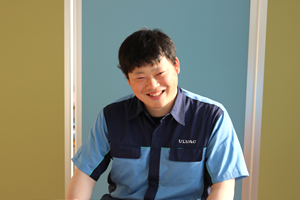 * The content of this interview is accurate as of March 2018.